The Last Day of Workshops
As with most conferences, there seems to always be a time slot where you want to attend most of the workshops. With 40 concurrent workshops happening in each slot, this was a bit of a problem for us on the last day. While torn between workshops on LGBs in Cuba, sex worker organizing, intersex rights, LGBT rights in Iran, and a couple of workshops by CUPE members (including one on the Pride in CUPE course), Tara chose the workshop titled "Against War!"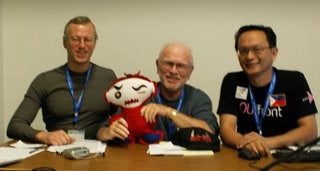 Andy Thayer (DontAmend.com), Bob Schwartz (Gay Liberation Network USA), and Edgar Oscar Atadero (ProGay Philippines) all talked about war is a gay issue and argued that "to promote LBGT human rights, a human rights perspective is necessary, and it is necessary to stand in solidarity with those who are affected by war." Andy talked about how the GLN had organized and were able to mobalize 15,000 people to march when the US started bombing Iraq, which resulted in shutting down a main arterial road. Edgar talked about US colonial history in the Philippines and the coalition work that ProGay was doing with farmers, the church, feminist and other human rights activists.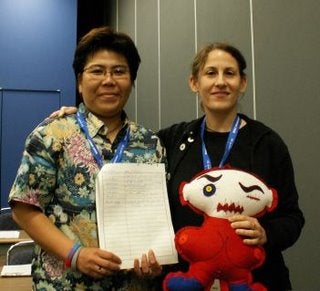 Yuri Horie and Kim Hughes with the Iraq Hope Net (Japan) petition that Kim will deliver to the White House in person.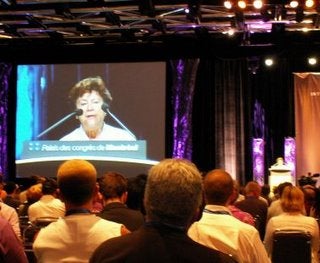 Claire L'Heureux-Dube, former Supreme Court judge who had a huge impact on feminist jurisprudence in Canada.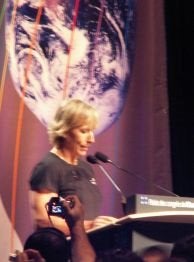 Martina Navratilova, winner of 18 Grad Slam championships in singles tennis. At the closing of the conference, The Declaration of Montreal was shared with all of the delegates. This declaration challenges the United Nations to advance the human rights of ALL people around the world. That our conference focused on LGBT issues, it follows that The Declaration of Montreal does have an emphasis on the rights of Lesbian, Gay, Bisexual and Transgendered people, but it clearly shows that we are not basing our movement on this narrow perspective. Until full Human Rights are achieved for all, the organizing will continue.
 The Opening Ceremony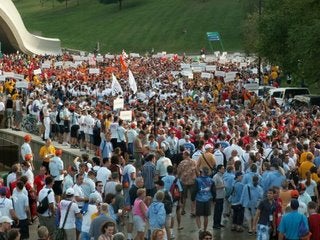 The Workers Out conference finished just as the Out Games began, so we were all able to participate in the Opening Ceremony for the Out Games. Over 16,000 people began to marshall in the participants area ready to march in to the stadium. It was exhilarating.\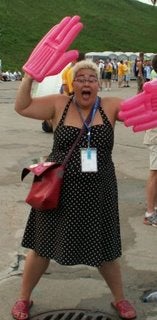 Many cities and countries had interesting props and uniforms. I saw a German team with big pink inflatable hands and had to take a picture (note: matching shoes and handbag).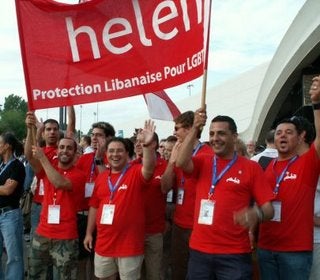 We were overjoyed to see Helem, the LGBT human rights group from Lebanon. Earlier in the conference one of the keynote speakers from Helem couldn't attend because of the war, so she spoke via video. It was wonderful that they could come to Montreal.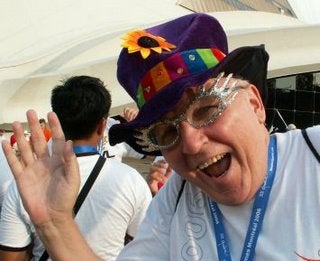 There were many other interesting characters, including a drag queen in a giant clear plastic hamster-ball-type contraption who was rolling around and then rolled up the hill and over the horizon.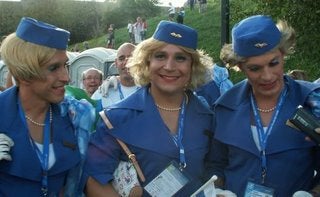 Future members of CUPE's airline division? Actually Raijan Air, the "unofficial carrier of the Eurovision Song Contest in Helsinki, 2007."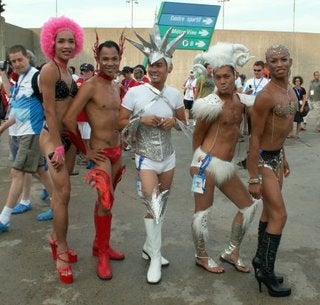 Participants from Thailand!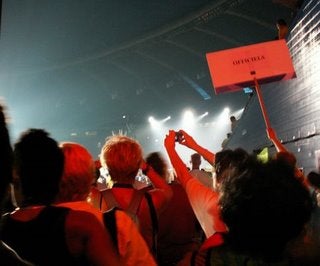 Entering the stadium…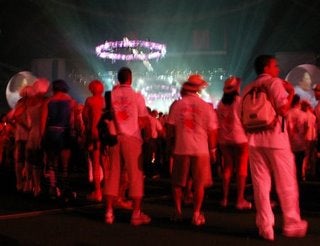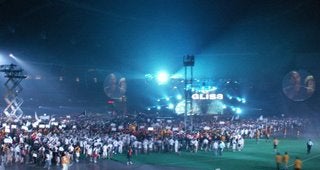 There were nearly 60,000 participants and spectators in the Olympic Stadium.A gentle, fun nationalist spirit was expressed through national costumes and flags. There were some in kilts, clogs, yukata, saris and other types of traditional dress.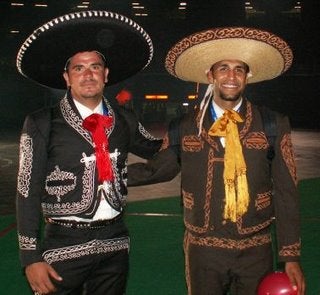 Check out the Outgames website for more photos. And where do we go from here? There will be some time taken to reflect on all that was shared at the conference, but some immediate plans for Tara, Peter and Doug are:
prepare a report for CUPE 391, CUPE Metro and CUPE BC on our experiences here at Montreal
find out the latest on Vancouver's Pride Parade preparations especially CUPE 391's entry and Multi Union Pride's entry
share the vibe that is the OutGames
Thank you for following on our adventures. We'll have a few more updates in the next two weeks – then we'll hope to see you in Copenhagen in 2009 at the next Worker's Out Conference.
posted by tara