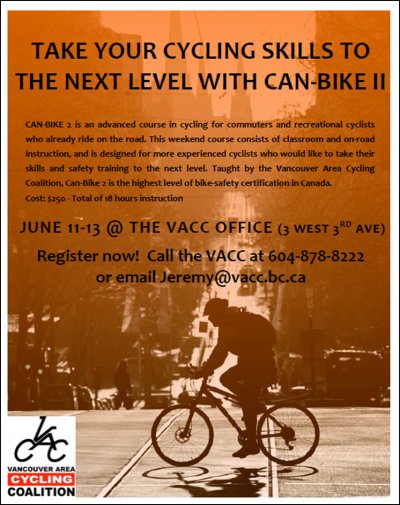 Are you a cyclist that currently rides in traffic but would like to take your skills and safety training to the next level?  This course may be for you!
CAN-BIKE 2 is an advanced course in defensive cycling for commuters and recreational cyclists who already ride in traffic. It is Canada's only nationally recognized safe cycling certification course. It is designed for more experienced cyclists, age 16 and up, who already ride in traffic and would like to take their skills and safety training to the next level.
A combination of classroom and on-bike instruction will improve your confidence and skill at riding safely in challenging traffic situations. CAN-BIKE 2 is also useful for people who use their bike in a professional capacity, or would like to do so in the future. Fields in which CAN-BIKE 2 certification might be required include: working with kids and bikes in a school or camp environment, working as a bike courier, riding a bike as a security guard, working or volunteering with a police or community policing organization, riding a bike as a nurse or emergency medical technician, etc.
Dates and Locations
Date: June 11-13, 2010
Location: VACC office – 3 West 3rd Ave., Vancouver
Registration: Please call the VACC office at 604-878-8222.
Cost: The cost of the course is $250 and covers the full weekend of course instruction, the exam and certification. Participants will also receive a participant handbook with extensive information about all aspects of safe cycling.
Course times are:
Friday – 6:00 pm – 9:00 pm
Saturday – 9:00 am – 5:00 pm
Sunday – 9:00 am – 5:00 pm
Visit the Vancouver Area Cycling Coalition's CAN-BIKE 2 web page for more information.