Several VPL staff members and their spouses use parts of the Central Valley Greenway (CVG) for their daily commute, and recently the 24km of Greenway just got a little bit better. A previously awkward and slightly treacherous passage over a portion of Still Creek has been much improved with a flatter bridge. So smooth is the transition that you may not even know you are cycling over the creek.
The Burnaby Now newspaper recently featured an article about the opening on June 12th with a photo of VPL staff member and dedicated commuter cyclist Eleanor Acker.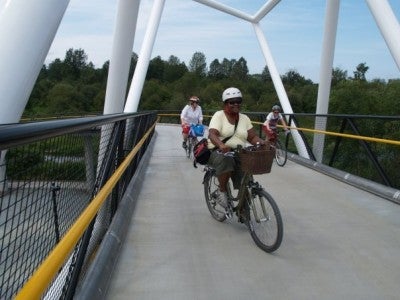 Winston Overpass, Central Valley Greenway
(not the new bridge mentioned in the article). VPL group ride.
July 13 , 2009.  Photo courtesy of Phil Hall. 
Dana