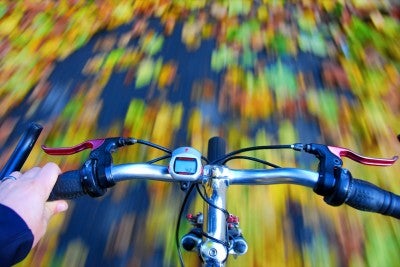 photo by Jesse Millan ~ accessed via Wikimedia Commons
Update, November 22nd:
FALL BIKE TO WORK WEEK 2010 RESULTS
In total, the City of Vancouver logged 702 trips during fall BTWW, travelling 5,240 km, saving 1,079 kg of CO2e and burning 157,227 calories. Well done everyone who participated!
The City won the "Best of Government" category and took second place in the organizations over 1000 category (following UBC).
Overall Bike to Work Week commuter station cyclist counts saw a growth of 115% from November last year.
The Vancouver Area Cycling Coalition has announced their workplace winners:
Bruce Carscadden Architects
Form3 Design
Zaber Technologies
Pulse Energy
Worksafe BC
ARCTERYX Equipment
SAP
VCH
City of Vancouver (including The VPL team)
UBC
Congratulations to everyone!
The VPL Team was second only to one city department in number of trips: Greenways and Neighbourhood Transportation had 140 and we had 105.
You can see how other City teams placed by visiting the Bike to Work Week Website.
*************************
October 25th
Dear Commuter Cyclists and Potential Commuter Cyclists:
November Bike to Work Week 2010 is almost upon us. Here are the upcoming activities:
1. Share the Road Challenge, Wednesday, October 27th.
Car drivers, transit users and cyclists race to Library Square! Media will be in the South Plaza to capture the happy looks on the faces of the cyclists as they roll in (usually ahead of the cars and transit users). Be there around 8:15 am to greet all the commuters as they arrive and find out how their travel times and enjoyment levels compare. Join us for free refreshments and a friendly crowd.
2. Check out the Pedal Pushers' table at the staff expo on Thursday, October 28th.
Come down to the moat between 12 and 2 to chat with us, check out winter riding gear, pick up cycling info and make buttons.
3. Bike to Work Week (BTWW), November 1 – 7th
If you are planning to cycle to work that week, please remember to join the VPL All Staff team. Even if you cycle to work just one day that week, log your commutes and you could win prizes!
See the VACC's BTWW website to login or register.
Any questions? Send an email or phone a committee member or bike buddy – contact info avail. on the Pedal Pushers' Wiki (can only be viewed from staff stations)
4. BTWW Commuter Stations
During BTWW visit the Commuter Stations, November 1-5th. Volunteers will be waiting with snacks, cycling info, drinks, prizes, and smiles! You can win fabulous daily prizes just for stopping by. Check here for the best station on your route to or from work
See you in the streets!