Library workers who knew and worked with Judy Capes are profoundly saddened by her loss.  Judy was the Deputy Director of Vancouver Public Library for a number of years.  S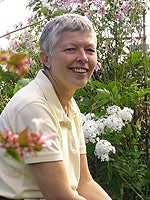 he was a woman of vision for library and community services, common sense, marvelous ability to build social capacity externally and internally, and a gifted labour relations practitioner.  When Judy left the library in the late1990's, many of us held out the hope that she would come back as director.
Judy surfaced shortly after as office manager for the British Columbia Hospice Palliative Care Association as well as a counsellor at Living Through Loss Counseling.  It was a surprise to some friends and colleagues who associated her primarily with public library service.  Judy was a gift to her new endeavor.  She was able to share her skills with me when I lost my brother-in-law in 1999 and sister in 2000 to cancer.  My sister ended her time in the loving and caring hands of palliative care people.  I thank Judy again for all the times she listened, did not contradict and just supported me in a meaningful way.
For those of you who wondered where Judy was:
In addition to one-on-one counseling, she facilitated LTLC's Drop-In Group (Loss Through Death) and the six week Healing Group designed for people adapting to the pain of loss through death. Her areas of expertise included bereavement training, loss of health, anticipatory loss, peer support training and lesbian and gay issues. Judy had a master's degree and was certified in Applied Choice Theory, Thanatology, Healing Touch and Labyrinth Facilitation. She also had many years experience in the hospice palliative care field as a volunteer and trainer.  Living Through Loss Counseling website 2007.
Judy Capes: A Service of Thanksgiving and Celebration
St Andrew Wesley United Church
1022 Nelson St. Vancouver
Thursday, November 4, 2010
Rest in peace. You are missed.