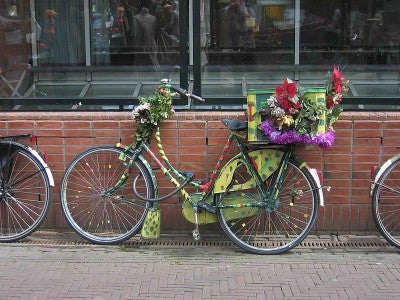 A bicycle decorated with (plastic) flowers at the Waterlooplein market in Amsterdam, 11 June 2004. Photograph by Dirk van der Made
The long, cold winter is finally behind us and signs of spring are everywhere! Crocuses and cherry blossoms are blooming and the air is a little warmer. For those steadfast all-season cyclists it's nice to have longer daylight hours and warmer conditions. For the more fair-weather riders, you might notice some changes on the streets of Vancouver since you last rode your bike, and for those thinking about or new to cycling, there are lots of online resources to help you get started (see the Get Ready for BTWW posting from May 12, 2010 for some links).
Great strides have been made to our cycling infrastructure in the past year:
In addition to the separated bicycle lanes on the Burrard Bridge, there are now separated lanes that create a connected route through the Downtown core along Dunsmuir Street and Hornby Street.
To improve comfort and safety the City has also installed some trial bike-permeable barriers on popular cycling routes such as on 41st Avenue at theOntario Bikeway and on King Edward Avenue at the Heather Bikeway.
New bike routes include the Valley Bikeway (from Trafalgar Street at Cornwall Avenue to Valley Drive at 33rd Avenue) and the 29th Avenue Bikeway (Pacific Spirit Park to Midlothian Avenue at Ontario Street). New bike lanes include Kerr Street (E 49th Avenue to E Kent Avenue) and E 22nd Avenue (Nanaimo Street to Renfrew Street).
To stay up-to-date on these and other bicycle-related developments in Vancouver, check out the Bike Vancouver website.
A pocket-sized map showing the bicycle routes in the city is available at City Hall, by calling the Bicycle Hotline at 311 or by email at bikevancouver@vancouver.ca. Maps are also available at Vancouver libraries, community centres and some bicycle stores. Download the map here (PDF document 6.69 MB).
Velo-City Conference Series
In 2012, the City of Vancouver will host the the Velo-City Conference Series, an international cycling planning conference. This four-day event (June 24-29, 2012) is designed to encourage cycling as part of daily transport and recreation. The Velo-city Global 2012 Conference Blog will post articles, have informal short polls and announce contests for conference registrants who visit the blog. This is a good place for information while the official conference website is still under development.
"Velo-city conferences bring together those in involved in policy, promotion and provision of cycling facilities and programs.  Engineers, planners, architects, social marketers, academic researchers, environmentalists and industry representatives join forces with government at all levels ranging from municipal politicians, policy makers and educators in knowledge sharing and building effective trans-national partnerships to deliver benefits worldwide." From the Velo-City Global 2012 Conference Blog
Upcoming Events
We're excited about the upcoming cycling season and getting a head start on some of these events. Some of the websites have yet to update their pages from last year, so check back as their respective dates approach for more up-to-date information:
We simply can't list all the great rides in Vancouver and British Columbia. Here is a site that lists a number of rides around B.C.:
We hope these links inspire you to get out there and explore your region by bike!
See you in the streets!
~ Jodi