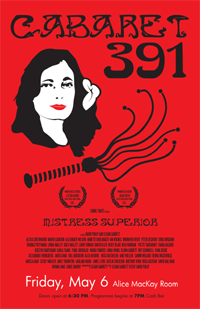 You're invited to Cabaret 391! An evening of song, poetry and film by members of CUPE 391.
Featuring:
the vocal stylings of Michael Duff
the poetry of Anna Swanson and special guest poet Rene Saklikar
the 1994 short film comedy classic "Grounds For Madness" by Chris Savory and Paul Tartaglio (featuring a very young Peter DeGroot)
the comedy feature film "Mistress Superior" with Best Actress/Actor winners Elektra Harris and Jacob Breen, and featuring a supporting cast of more than 40 VPL actors! A film by David Philip and Sloan Garrett.
Friday May 6 in the Alice Mackay Room. 391 members' friends and family are welcome! Doors opens 6:30 PM. Show starts at 7 PM. Cash bar.
Download poster
by James Gemmill