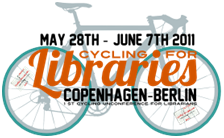 Image used with permission
The Pedal Pushers cycling committee is pleased to announce that Phil Hall will be participating in the first ever Cycling For Libraries Unconference. Cycling for Libraries is an international and independent "unconference" in the shape of a bicycle tour starting from Copenhagen and ending in Berlin (650 km) May 28 – June 6, 2011. The purpose is to gather a group of library professionals from around the world and cycle approximately 650 km, and on the way, discuss strategic issues in the library field. The ride starts at the Danish National Library courtyard in Copenhagen, and it ends at the 100th Deutsche Bibliothekartag! (The German Library Conference in Berlin). It is a unique and exciting opportunity to enhance the visibility of libraries while participating in a professional conference.
Some of the themes for the unconference are: communicating to customers; extending knowledge and skills, what the library can offer to the community; library as a public place; mobile libraries, library lovers' best practices, how to communicate with library users; open your data; the future of libraries; and much more.
In order to support Phil's participation in this exciting event, the Pedal Pushers are fundraising to help out with his expenses.
Interested VPL staff and management can support our Cycling for Libraries emissary by:
Attending our bake sale/info session at Central in the staff lounge on Tuesday, May 10th from 12 to 2—come and eat delicious homemade treats and ask Phil all about the unconference.
Buying a 50/50 ticket. At Central, ticket sales will begin on the evening of May 6th at Cabaret 391, and sales will be ongoing with spontaneous workroom visits by Pedal Pushers until noon on Tuesday, May 24th when we will draw a winner! If you work in any of the branches, members of the Pedal Pushers will be cycling to all of the branches in an epic bike ride to sell 50/50 tickets on Saturday, May 21st. Tickets will be $1.00 each or 6 for $5.00.
If you miss any of these opportunities, please feel free to email Dana.Putnam (at) vpl.ca to buy your 50/50 tickets (after May 6th but before noon on May 24th!).
The Pedal Pushers are excited about Phil's participation in the inaugural Cycling for Libraries unconference as it is sure to be a very fruitful international library conference for library lovers who also happen to love to ride bikes. We all wish we could go too!
~ The Pedal Pushers
pedalpushers (at) vpl.ca