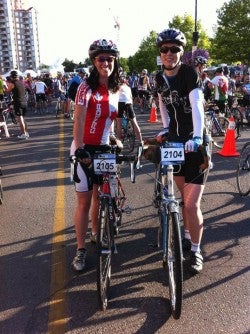 Kay and Jodi in the starting corral
Following on from Jodi's successful completion of the 2010 RBC GranFondo Whistler, she and fellow Pedal Pusher Kay Cahill set out on a beautiful sunny Saturday in the Okanagan to ride in the inaugural RBC GranFondo Kelowna. The 115km route wound its way along the shore of Okanagan Lake, up the punishing climb to Predator Ridge, through Vernon and then back through the rolling hills of Lake Country to the finish line in Kelowna. Kay and Jodi both completed the ride successfully, and are now preparing for their next long-distance ride to Whistler in September.
A full description of the ride with accompanying photos is available at Kay's blog.
Anyone who is interested in joining Jodi and Kay for training rides can contact them at kay dot cahill at vpl.ca or jodi dot caddick at vpl.ca. Not all of them are 115km long.