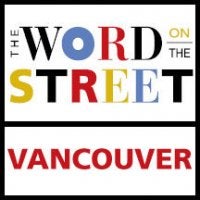 CUPE 391 is partnering with CUPE BC, CUPE 15 (City of Vancouver), CUPE 389 (North Vancouver District) and CUPE 1004 (Outside workers, City of Vancouver) this year.  We have a very large tent (20' x 20') on Homer Street (T4 in the WOTS programme guide).
CUPE will be handing out great swag and socially relevant publications on the environment, our water, P3's.  We are also have the good fortune to present three local authors performing author readings: the passionate civil society advocate Dan Gawthrop (The Rice Queen Diaries, Highwire Act Politics, Pragmatism, and the Harcourt Legacy, Vanishing Halo Saving the Boreal Forest, Affirmation The AIDS Odyssey of Dr. Peter) at 1.00 pm; the very entertaining Charles Demers (Vancouver Special) at 2.00 p.m and social justice advocate Derrick O'Keefe (The Lesser Evil, Michel Ignatieff) at 3.00 pm
We need your support to engage our public at the big tent.  This is a fine opportunity to find out what our patrons want in library service and have a discussion about how socially important library and municipal services are to our public.  It is also fun to wander about collecting fabulous swag from the magazine and book publishers and to listen to the authors read from their latest books.
CUPE is sponsoring four authors this year.  Todd, photo op!
We probably have enough volunteers at the big tent but the more the merrier.  Sustenance will be provided.  Solidarity and fun will abound.  We are organising the coverage in two-hour blocks (or whatever works for you).  Word on the Street starts at 11.00 a.m. but we need some people there at 10.00.
10.00 am to 12.00 pm
12.00 pm – 2.00 pm
2.00 pm – 4.00 pm
4.00 pm – 5.00 pm.

Please contact Mike at the Union office 604-322-4879 or e-mail him if you are interested in participating.
In solidarity
Alex