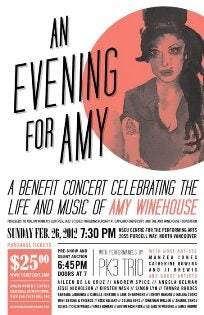 Sunday, February 26, 2012.
NCSU Centre for the Performing Arts – 2055 Purcell Way, North Vancouver, BC – 7:30 PM | Map
An evening celebrating the life and music of the late great Amy Winehouse.
Over 25 artists of many genres put a spin on the songstress' greatest tracks. An acoustic set followed by a live set with jazz group PK3 Trio. A live and silent auction will also be held. All funds support The Avalon Women's Centres, and The Amy Winehouse Foundation, and a bursary for a student of Capilano University. For more information contact aneveningforamy@gmail.com.
Tickets are $25, and available at Mintage Clothing on Commercial Drive, Clubzone.com, and Avalon Women's Centre.