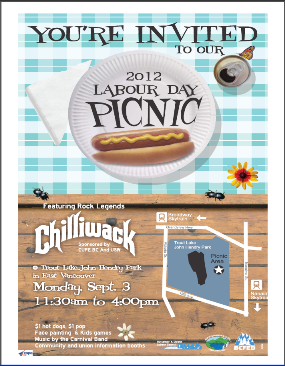 When: 11:30am – 4:00pm
Where: Trout Lake Park, East Vancouver
I am not sure if everyone is aware that on this coming Labour Day, CUPE is having a Labour Day picnic for all to attend!
The picnic will take place on Monday September 3rd at Trout Lake Park. I am a member of the BC Young Workers Task Force, and myself, along with another member are in charge of organizing children's activities for the picnic. We plan to keep the kids entertained by putting on games, renting a bouncy castle, giving away loot bags, etc. We were told that their would be around 200 kids at the picnic, and therefore we are in need of volunteers, volunteers, and VOLUNTEERS!! If anyone is able to help out for an hour or two that would be absolutely great. Volunteers would help us run different games, hand out freebies, help supervise kids, etc.
If you are able to volunteer your time for an hour or two, please let me know. You can send me an e-mail at shevonne.leslie@cupe391.ca or even send me a message through Facebook. Even if you are not able to volunteer, it would be great to see 391 members come out to the picnic!!
Thanks!
Shevonne
Also see: Alex's blog post