Ken Davidson "truly was a brother to so many of us in the labour movement," as quoted by Brother Mark Hancock.
I remember my first meeting with Ken Davidson.  Ken insisted that I had to become a delegate to CUPE Metro if I was to get activist training.  CUPE 391 rented a tiny office from CUPE 1004 on Ash Street.  The office dynamics were lively.  CUPE 1004 and Ken taught our local about city politics and a variety of strategies in dealing with employers, boards and politicians.  Ken was very knowledgeable about what went on in the back rooms of City Hall and was imbued with trade unionist principles.  He always applied those principles in all his negotiations with the City and as a CUPE BC executive board member.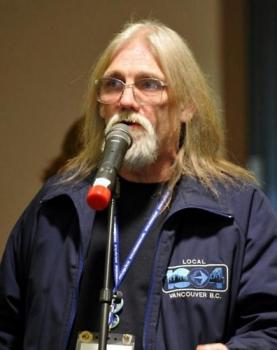 Ken had a great orator's voice; baritone and ringing.  He had a gift for phrasing the debate that clarified issues for those in a fog or undecided.  Sometimes Ken would appear at the con mic to discuss popular issues just to make sure that we were educated on the matter.  He never backed down on anything that would affect the betterment of all.  Ken was very well read on local and international issues and brought a refined intellect to the discussion.
Ken Davidson was also hilarious and raucous.  My memories of his comments of certain managers, monitoring tests and members are not repeatable in this context but were right on the money and will make me laugh always.
Ken Davidson was a good friend to CUPE 391.  I hope the next generation of trade unionists study his example and 'walk the walk'.
From CUPE 1004
In lieu of flowers please consider making a donation to Co Development of Canada at #260 2747 East Hastings St. Vancouver BC V5K 1Z8.
Courage, my friends; tis not too late to build a better world – 

Tommy Douglas.
Brother Ken Davidson
Thursday, February 21, 2013
2.00 p.m. to 6.p.m.
At the Pacific Coliseum, Pacific Dining Lounge
Main Entrance, on Renfrew, NW corner & Handicap Access Lower North End Gate #6
At Ken's request, this is to be a "Roast" to celebrate his life and times as an activist for CUPE .
in solidarity
Alexandra Youngberg