Wow!  Big day!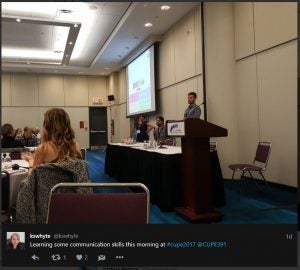 Early Start
The morning began for us at 7:45am with the Communications Breakfast, where Renee and Kari learned about the tools available to effectively communicate with our members. Aliza attended the Women's caucus, hosted by the CUPE National Women's Committee and Tanya attended the caucus for the Worker's of Colour, hosted by the National Committee for Workers of Colour.  In both these meetings, priority resolutions were discussed, including a controversial resolution for a change to the Constitution, which calls for the addition of 4 diversity seats on the National Executive Board. Tammie kindly held a spot at the mic for our brave speakers (a role colloquially known as a "mic muffin").
The hall opened to the music of Me&Her, and the first order of business was the presentation of the Grace Hartman Award, which recognizes activists who break ground in the struggle for equity and social justice for women. This year, activist Joanne Foote was recognized.  Congratulations!
The remainder of the morning was dedicated to discussion and voting on resolution and discussion on our Strategic Plan, the latter emphasizing our priorities for coming two years, including advocacy and action for workers seeking equity.
Silence Breeds Racism
After lunch, we were privileged to hear the key note speaker for the event, Nesrine Malik, journalist, writer and activist on issues of race, equity and justice. She spoke about the rise of the alt-right in the last few years in countries like Great Britain, France, Germany and the United Sates, and eloquently described how complacency has allowed a space for hate.
Nesrine was followed by the giving out of the Ed Blackburn award to long time activist and Diversity Vice-President on the National Executive Board Yolanda McClean.  This is an award which recognizes a CUPE activist who has shown leadership in the pursuit of racial equality.  Congratulations Yolanda!
R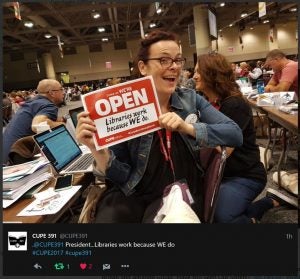 esolutions, resolutions, resolutions! 
The rest of the afternoon was dedicated to discussion and voting on resolutions, which I'm happy to say went efficiently enough that we were able to get through the entire list for the day!  Almost unheard of.  Happy to report that two resolutions supporting literacy, presented by the CUPE National Literacy Working Group, were passed unanimously!
From the convention floor, your fellow member and representative, Aliza.