In preparation for
Bike to Work Week
(May 31-June 6) and
Bike Month
(June), the City of Vancouver's
Sustainability Group
is offering a two-hour bike maintenance workshop from the Vancouver Area Cycling Coalition at the Vancouver Public Library's Central Branch.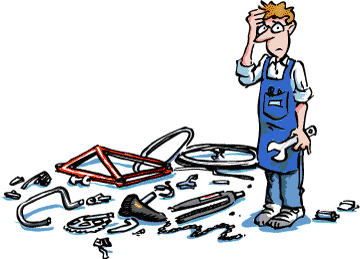 Demystifying Your Bike: The Basics of Bike Maintenance
This fun, interactive workshop takes the mystery out of the bicycle. Participants bring their bikes and we show them how to do a basic inspection to make sure it's in good running order. They learn how to clean and oil their bike, check their brakes and gears, and a few other tricks to make their riding experience more enjoyable. We cover fixing the dreaded flat tire (not really such a big deal after all!), and help participants decide when it's a good idea to take their bike to the shop.
Date: Wednesday, May 19th
Time: 5:15 pm – 7:15 pm
Location: Staff Lounge, Central Library
Capacity: 7 to 12 participants
Please email Jodi to register (email address can be found by accessing the
Pedal Pushers' Staff Wiki
– internal VPL access only).