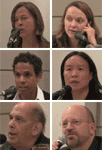 On October 22, 2009 CUPE 391 hosted its first writers event,"Public Libraries: Keep Them Local." The panel discussion, hosted by CUPE 391 president Alex Youngberg and moderated by author and CUPE Communications rep Daniel Gawthrop, featured local authors Caroline Adderson, Carellin Brooks, David Chariandy, Larissa Lai and Stan Persky, as well as political columnist Bill Tieleman. The purpose of the event was to highlight the importance of public libraries' acquisition and cataloguing services in protecting the local integrity of library collections. Acquisitions and cataloguing are the latest services to come under threat of possible contracting out, and 391 President Alex Youngberg highlighted the current trend of "Chapter-izing" libraries in which privatized acquisitions lead to "cookie cutter" collections that don't reflect the rich diversity of local cultural history. Read the full report at http://www.cupe.bc.ca/5491. Videos by James Gemmill. (http://www.youtube.com/user/Spartikus)
Caroline Adderson | Carellin Brooks | David Chariandy | Larissa Lai
Stan Persky | Bill Tieleman | Select Audience Comments
---

Olivia Twist
Promotional video for CUPE's national bargaining women's equality conference: http://cupe.ca/nbc
---

Public Services Remain Public
2nd interview with charge hand Thor Collison of the Port Clements landfill on Haida Gwaii (Queen Charlotte Islands) who, with the aid and strong support of the Canadian Union of Public Employees, successfully prevented his worksite from being privatized. By James Gemmill.
---

Vancouver Public Library at Work
A celebration of Vancouver Public Library employees and the work they do, by David Philip and Sloan Garrett. Please see more of their work at  Comic Twist Productions.
---
The Balding Boys on Broadway

The Phantom Manass
Life at the library is especially craptacular when a shady character has had his fill of beans.

The Security Gate Strikes Back
A craptacular library film on what to do when the security gate bell tolls.

No Hope
The Balding Boys on Broadway present another craptacular library instructional film on how to deal with a chatty patron.

Revenge of the HSIT
Another craptacular instructional film on how to deal with assistance animals in the library.
---
July-October 2007

Naomi Klein speaks on the CUPE 391 picket line
From working TV, @ http://www.workingtv.com/cupe-naomi.html : Author and activist Naomi Klein spoke to striking Vancouver Public Library workers, members of CUPE 391, on Friday October 5, 2007 at Library Square in downtown Vancouver.

Tour de VPL
On September 5th, 2007 the Bike Strike Brigade hits all 21 branches closed during the strike. By Holly Hendrigan.

Wage and Term: It's the Amount That Counts
As the strike drags on, one thing is obvious: Burnaby's dinner still looks better. By D'Arcy Stainton.

Pay Equity: A Recipe For Disaster
By D'Arcy Stainton.

Auxiliaries: The Gentle Sherpas of the Public Library
Using footage taken for another purpose, from before the strike – describes some issues faced by auxiliary workers. Many thanks to the performers! You are all amazing! By D'Arcy Stainton.

Day 43
CUPE 391 strikers speak out. By David and Sloan (September 7, 2007).

Still on Strike – Days 45-55
How one intrepid striker spent ten days in September, 2007. By David and Sloan.

Three Men In Suits
Three Men In Suits chance upon the Vancouver Public Library during the 2007 strike. By David and Sloan (October 3, 2007).

CUPE391 Gold
Membership has its privileges. By David and Sloan (October 8, 2007).

The 2007 Library Olympickets
Feats of silliness for the Golden Book. By David and Sloan (October 18, 2007).

Ron's Swan Song
Ron retires while on the 391 picket line.