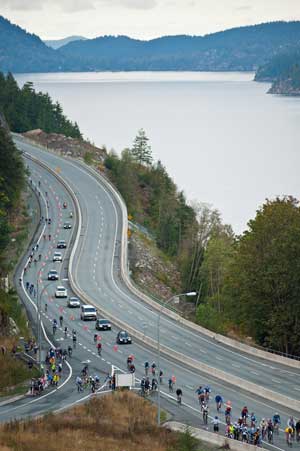 Loosely translated from Italian, GranFondo means "big ride." Rides are often 100 km or more for a large number of cyclists at a variety of skill levels – everyone from the competitive cyclist to the amateur wanting to challenge themselves over distance and time enjoy these events. Gran Fondos are judged by the challenges they offer – steep climbs, long distances and a combination of the two.  While these are not races, top finishers are often recognized. The 2010 RBC GranFondo Whistler was the first world-class Gran Fondo in Canada, and will be followed by the 2011 RBC GranFondo Whistler on September 10, 2011.

Imagine cycling 122 km with 2,400 metres of climbing over the entire route…
Well, Jodi did it. Long time VPL staff member and a founding Pedal Pusher, Jodi Caddick finished the RBC Whistler GranFondo in a little over 6 hours.
Jodi started cycling again about three years ago after a roughly 10 year lapse. Ever since rediscovering her bike, she has been cycling to and from work every day, year round. The GranFondo was the excuse Jodi was looking for to ride her bicycle more. In April, she participated in the British Columbia Randonneur's Pacific Populaire, riding her longest distance at the time – 100 km. In May, Jodi started riding with a cycling club on Sunday rides that averaged 80-90kms. She often found that when the ride was over, she really just wanted to keep cycling. So, the GranFondo was an excellent challenge for her, and she accomplished it despite her doubts. Congratulations to Jodi from the Pedal Pushers Committee and all the best for her future long distance rides (of which I am sure there will be many).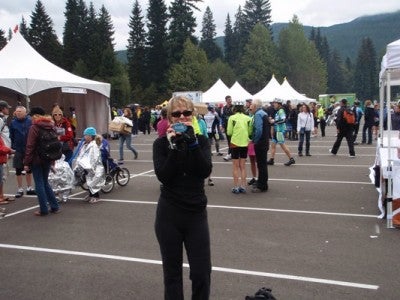 Here is a selection of videos and pictures from the event:
RBC GranFondo Whistler 2010 (Tourism Whistler) —The inaugural RBC GranFondo Whistler brought together 4,000 cyclists of all ages and abilities in an epic journey from downtown Vancouver, along the world's most scenic coastal mountain highway (Highway 99), through Squamish and on to a breathtaking finish in Whistler. GranFondo rides have been popular in Europe for years and this was the first one ever to be held in Canada!
Aerial video of the start line, epic!
Aerial video of the Lions Gate Bridge
Aerial video on the Sea to Sky
RBC GranFondo Whistler 2010—A compilation of clips of the RBC GranFondo Whistler from the view of a motorcycle helmet cam.
GranFondo | Global News: "The RBC GranFondo Whistler takes guts, stamina and determination…"
2010 GranFondo Whistler (Dave Silver Photography)